Live Like a Lord - the James Corrigan story.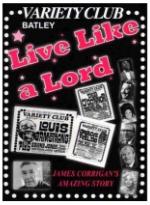 Select image to enlarge front cover
64 pages, A5, over 100 photographs on quality art paper.
Price £6.99
Relive the star studded years of this spectacular club. The book traces the history of the Corrigan family, and James Corrigan's life before Batley. What was Clubland like in West Yorkshire prior to the opening of the Variety Club?
Here we chart the opening of the Kon-Tiki, the Ace of Clubs, the Fiestas and the Greasborough Social Club. Then the amazing story of how James and Betty Corrigan set about opening the biggest and best Cabaret Club this side of Las Vegas. They had a decade at the top but increased competition and some ill-judged business ventures led to closure and eventual bankrupcy.
The complete colourful story is here!