Flicks - A Picture Album of Cinemas in Leeds and Bradford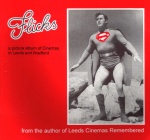 Select image to enlarge front cover
48 pages. Booklet, many photographs.
It is fourteen years since the publication of the books LEEDS CINEMAS REMEMBERED and THE CINEMAS OF BRADFORD. Since then, the cinema scene has changed dramatically. Gone are the Tower, the Plaza and the Lyric in Leeds, and the ABC/Cannon in Bradford.
Thankfully more screens have been added with the opening of Pictureville and the Showcase. In this updated book you'll find many classic cinema pictures offering a chance to rekindle the GOLDEN AGE OF THE FLICKS.