Johnnie Walker - Cruisin' the Formats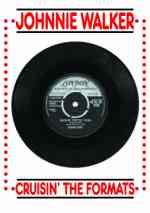 Select image to enlarge front cover
Price £6.99
Putting Johnnie Walker in the context of UK radio development since the 60s.
JOHNNIE WALKER - CRUISIN' THE FORMATS examines the four decades since the pirate stations and traces the Radio 2 DJ's career from a tight US format on Radio England to freeform broadcasts on Caroline. From there he was forced to engage with the highly structured and bureaucratic programming of the BBC. In between he also experienced heady days in San Francisco - and the more mundane world of UK local radio.
Johnnie Walker represents the final national link between the pirates and today's government controlled broadcasting. As he embarks on a new chapter away from a daytime show, this timely study shows how a man of integrity has fought against dull formatted radio created by state interference.