Radio 270 - Life on the Oceaan waves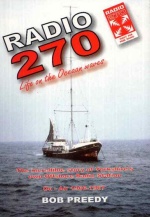 Click on image to see front cover
96 pages, A5, over 100 photographs.
Price £6.99
This is the turbulent story of Yorkshire's only offshore radio station.
It broadcast to Yorkshire from studios aboard a former Dutch trawler moored 4 miles off the Scarborough coast. DJ's like Paul Burnett began their career on the ship and the stories they tell about life on a small ship rocking and rolling in a Force 10 North Easterly gale make hair raising reading. From June 1966 to August 1967 Radio 270 was essential listening for thousands as the plucky DJs kept up their cheery chatter between the platters.
The men behind the station were self made hard nosed Yorkshire businessmen and life in the boardroom was just as intriguing as the station's output! From the moment the station began it was beset by technical disasters - on the opening day the mast fell into the sea. Other times, jellyfish were sucked into the generator and all the records slowed down.
Enjoy the pioneering madness of the whole enterprise as the station broke the BBC monopoly in the county. Radio had never sounded so much fun. Time to put a new battery in the tranny!