Radio Caroline North - Rockin' and Rollin'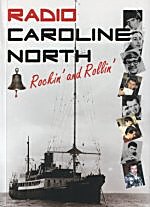 Select image to enlarge front cover
96 pages, A5, over 100 photographs on quality art paper.
Price £6.99
In July 1964, Radio Caroline North sailed quietly into Ramsey Bay with a mission to entertain. Now forty years on her legacy is still alive.
The station broadcast for only four years but in that time she stayed perfectly in tune with millions of listeners. The beat group era in Liverpool and Manchester provided the perfect tempo for her powerful transistors. Personality DJs like Dave Lee TRavis, Mike Ahern, Bob Stewart, Tony Prince and Don Allen became household names.
Behind the scenes there may have been turnoil but from the transistor we heard nothing but a positive charge. Now relive the fabulous 60s sounds of the sea - from the North's first and final national station, Radio Caroline North - always sounding fine on 199.