That'll be the Day - Our Life in Leeds.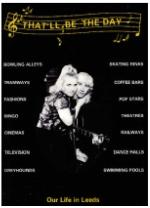 Select image for enlargement
32 pages, A5, many photographs.
Just £1.95
A treasure trove of fascinating facts about life in the city during the 20th century.
Check out exactly when the Beatles played the Odeon, or when Judy Garland graced the same stage. Not only the entertainment side of the city but also facts about swimming baths, bowling alleys, coffee bars, tramways, the greyhound stadium, Quarry Hill Flats, dance halls, railways, skating rinks, cinemas, theatres and much more.
The UK's first traffic lights were in Leeds - where? and when? Become an expert on Leeds city trivia! Great for quizzes.